Free Shipping In Canada!!!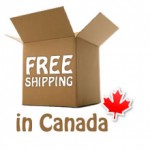 On all domestic Purchase Orders having a NET value of $1500 or greater…
All Molded and FABRICATED products!!!
OFFER VALID ON QUALIFIED DOMESTIC (Canada ONLY) "STANDARD GROUND" SHIPMENTS
How do we qualify to take advantage of this offer?
• Place your (NET $1500 or greater) PO with our North Bay Ontario office during the calendar month of May 2015 and your product will be shipped *standard ground to your location at NO COST to you!
• "Off Shore" & "remote" Destinations will be included at the SOLE discretion of *RPI (NFLD, Vancouver Island, Prince Edward Island, Nova Scotia, Fort McMurray) and will be decided "case by case" based on the individual project in addition to the destination.
• EXPEDITED (Air or other) shipments are NOT included.
• This offer DOES INCLUDE Electrofusion Processors!!
• Wherever there is any issue, *RPI Standard Terms & Conditions shall govern the action taken.
• Drop Shipments will be included at the at the SOLE discretion of *RPI (may be excluded for various reasons related to cost).
• Wherever possible, Standard Ground Shipments will be consolidated. Broken shipment orders (at request of the customer) MAY be included but ONLY at the SOLE discretion of *RPI.
Are you following *RPI on Linked In!? Why not?
Please visit us at: www.rahnplastics.com for more details! Happy PE Shopping!! We are glad that we can help…as you grow, we grow.
Best Regards,
Jeoff Lennox
Vice President – Sales & Marketing