RPI Celebrates our 25th Anniversary in December!!!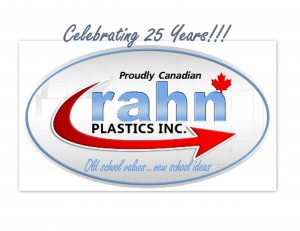 My colleagues and I at *RPI want to celebrate our 25th Anniversary with all of you…our VALUED friends & Trusted Industry Partners both here in Canada as well as the United States. Do you remember where you were working in December 1989? Were you buying, selling or installing PE fittings from Rahn Plastics Inc? If so, please feel free to send us your recollection (jeffg@rahnplastics.com) of how we may have worked positively with one another and, with your permission, we may just post a quote here on our website! It is amazing how fast the time flies by…we have learned so much & are very grateful that you have been so patient with us as we have adapted to the changes in modern business practice.
• As a fun way to celebrate our 25th Anniversary with all of you, we have decided to offer an additional "Birthday Bonus" of 2.5% off (.975 multiplier) ALL PO's over $1000.00 NET (received in the month of December 2014)!! No product is excluded.
• In addition we will include a Rahn Plastics hat & shirt with the first 25 Purchase Orders that we receive & ship in December 2014.
• Our FEATURED ITEM in December 2014 is 4" IPS Tee's or 90 Degree Elbows (any DR). If your stock is low at this time, this is a GREAT time to buy because we are going to offer an additional 3% (off your NET) all orders including quantities of 20 or more of these fittings.
NOTE: Of course, as always, our Standard Terms & Conditions apply wherever there is any questions. All pricing is FOB: North Bay, Ontario unless otherwise stipulated in writing.
We hope that you will have some fun with us and share your positive memories of dealing with our company over the years. If you don't have a recent story but want to talk about a memory that includes a retired employee we would love to hear it.
We sincerely appreciate your loyalty and your on-going support for Rahn Plastics Inc. Our goal doesn't change…if we grow, we want you to grow right along with us.
Best Regards,
Jeoff Lennox
Vice President – Sales & Marketing